Welcome to Jesse Real Estate Photography
HOW I STARTED?
It was accidently. I came across a site about the real estate photography and started to think about that job. I always wanted to earn money as a photographer, but I didn't want to do portrait or wedding photography. I wanted something simple, but yet creative. And that is how I ended up like a real estate photographer. I have my photography practice for 8 years. There are many possibilities that real estate or architectural photographer have.
THE BEST OF PHOTOGRAPHY
I love my independence, and I can achieve it with photography. I could be a photographer who works for someone else, but instead I like being on my own. Being an independent artist is definitely harder, but I believe that this is the main reason why am I so successful.
---
Recent Projects
---
How To take a Photo
Recent News
My week in Oklahoma
My first roofing project
Last week I was cleaning up my work computer and while browsing through the files I stumbled upon an older folder of a project I was commissioned to do last year. So I wanted to share with you some pictures and give you some info about the whole project. Last year in May, my dad contacted me asking if I'm willing to do a photo shooting of a roofing crew in Oklahoma City while they are replacing a roof. Although, most of my projects include houses and roofs in some form, usually my photos don't include people. So, after I finished talking to him, I took a long walk. After I have returned home I called him back telling that I am up for the task, well although I was reluctant at first, my dad's persuasion and nagging "helped" to seal the deal. So a week later I packed and went to Oklahoma.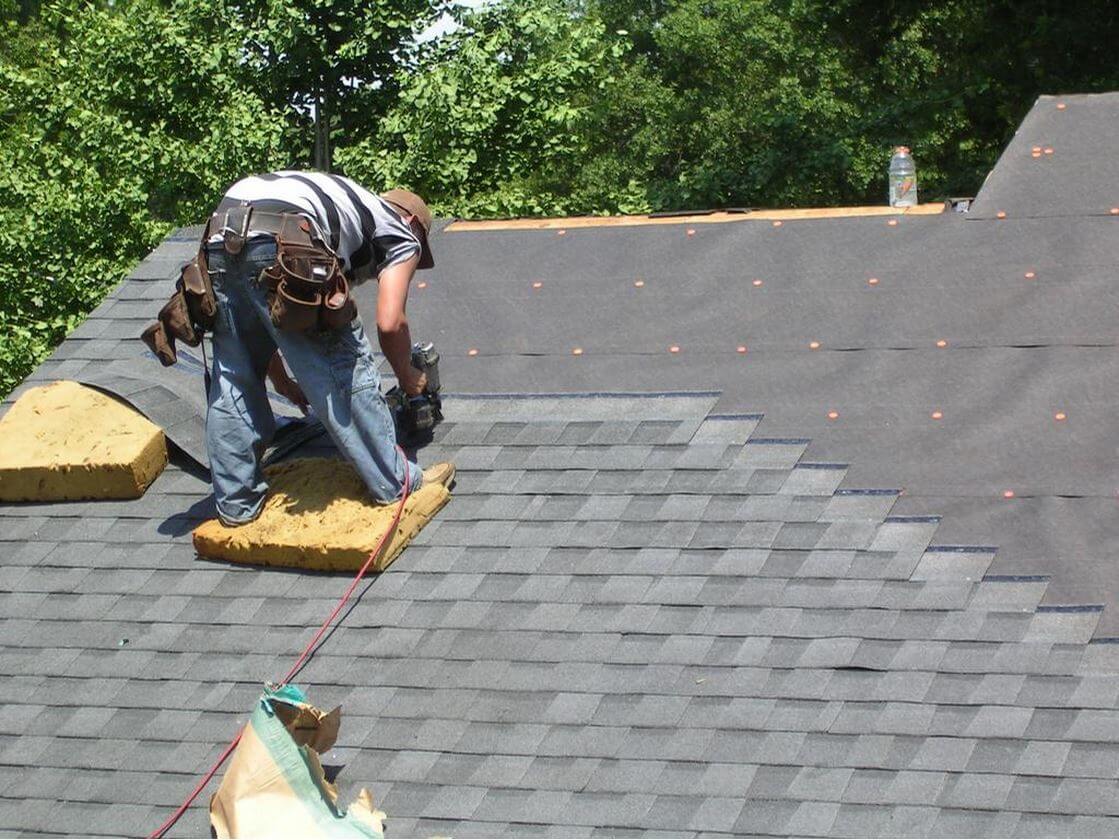 After I got there, I first met with my dad who then introduced me with Vince Lorenson an Oklahoma City roofing contractor, owner of Choice Solutions roofing & Exteriors, and rest of his crew. I have to say, these guys are a fun crew. I felt a bit nervous at first, since I wasn't sure how to start shooting, their house renovation project was due in a week so I had to plan my day carefully. Each day was about shooting a different phase of the roof replacement project. So I had to find a perfect angle for each of my shoots but also not get in the way of Vince and Choice Solution Roofing crew. At the beginning I was worried that I was an obstacle and a burden but I have to say they made things easier when they started making fun of the whole photo shooting, when they started posing like models.
On the first day I took a few pictures of stripped roof, only wooden beams were on the house, later Vince told me, the house was in really bad shape and they had to remove everything before replacing with a new roofing system. Family living there wanted an asphalt shingles. This was an extra challenge for me, since they aren't very visually appealing, they usually come in grey-ish colors and variations but who could blame them. Asphalt shingles are cheaper than most roofing materials but also preform equally well as other roofing materials out here.
Over the next few days Choice Solutions laid a new plywood base and ontop of it new asphalt shingles, one thing I liked about this project was the contrast of new and the old. One part of the crew was putting down new shingles while the other was still preparing and securing the roof with plywood boards.  After the transformation was done I took a few more pictures of the whole house from a few different angles, trying to use daylight to my advantage and pull out the best of those asphalt shingles.
At the end of the photo shooting I asked Vince if he could tell me more about roofing materials, just in case I find myself in a similar situation, so that I know how to act, and how to approach the project. There are many factors that need to be included in choosing the best roofing material for your property. Further, down you may find great info about different roofing materials available today.
ASPHALT COMPOSITION SHINGLES
This roofing material is one of the most popular ones and is comprising about 80% of the residential roofing market. This material is made or of organic paper of fiberglass impregnated with asphalt and is coated with the mineral protective granules. They are fire and high wind resistant.
METAL ROOFING
Metal is more expensive than asphalt, but can last longer and has better wind resistance. Metal roofing is composed of aluminum, steel or copper. It is available in shingles or in sheets and can resemble many other materials. Metal roofing is made of recycled materials and can be re-recycled. It absorbs less heat than the asphalt. Metal is known to be very durable and comes in many lightweight versions. It has a good resistance to both wind and fire.
CLAY TILE
It may be very expensive, but the materials are made from natural materials and are eco-friendly. It is very durable and that is why it is very popular among many homeowners.
CONCRETE TILE
This roofing material is less expensive than clay, but is heavier. Concrete can last for many years and is very fire resistant. Concrete is made from a mix of sand and cement and can resemble many traditional roofing materials like slate and wood shakes.
SLATE
Slate is one of the oldest roofing materials. Slates are a bit expensive, but are very durable and resists to fire and wind. They are made of natural rock and usually look a little darker. Since slate is made of natural materials, it also has an eco-friendly feature. This roofing material is very durable and long lasting. It may be a little too expensive but can offer you a roofing that can last as long as the house does.
WOOD SINGLES AND SHAKES
These materials are mostly made of cedar, and many other rot resistant kinds of wood. Wood gives your home a natural look. Wood shingles and shakes are made of natural elements and that is why they are eco-friendly.
All in all I hope you liked my little story. And if guys from Choice are reading this, I want to say thanks to them for being professional to me and to their job.
Choice Solutions – Roofing and Exteriors
2410 W. Memorial Road, Suite C #621
Oklahoma City, OK, 73134, USA
Phone: (405) 443-4747
Phone: (817) 231-0809
Phone: (405) 562-3575
Hours:
Roof Picture
ROOFING MATERIALS IN TEXAS
TYPES OF ROOFS IN TEXAS
There are many roofing materials and types available in Texas and further down you can find many pieces of information about the most popular ones. Roofing materials and systems are divided into generic classifications, steep slopes, and low slopes. Steep slope roofing includes water shedding types. Steep slope roofing is very popular and that is why they are great for your Texas home or business building.
LOW-SLOPE ROOFING
There are many genetic low-slope classifications of the roofing systems, metal panel roof systems, thermoset membranes, thermoplastic membranes, Spray polyurethane foam-based roofing systems, single ply membranes and built-up roofing systems. Most of the low-slope roofing membranes have 3 components, they offer a waterproofing layer. This is a very important element because it keeps water from penetrating into your Texas home. Surfacing is a component that protects your roofing system from water and sunlight. They have water resistance and hail resistance and have increased solar reflectivity.
STEEP-SLOPE ROOFING
There are a few generic classifications of steep slope roofing coverings. Steep slope roofing materials are the slate, clay and concrete tiles, asphalt shingles, metal roofing materials, slate, wood shakes and wood shingles and synthetic materials. These materials are composed of individual components or pieces installed in a shingle. Steep-slope consists of the roofing deck, the underlayment, and the roof covering. Roofing deck is the structural substrate and is made mostly of wood materials like OSB or plywood. Underlayment provides protection before the roofing covering isn't installed and provides you a waterproofing properties. Roofing covering is the external water shedding material that covers the roofing surface. In the text bellow, you can find many pieces of information about the most popular roofing materials and roofing in Texas.
ASPHALT SHINGLES:
They are the most commonly used residential roofs material in Texas. They come in a variety of colors and qualities.
WOOD SHAKE:
These shake shingles are also very popular roofing materials and are a modern version of the asphalt shingles. This roofing is great and weather proof. They have this rustic look that gives the values to your Texas home.
SLATE SHINGLES:
Slate shingles are made of sedimentary rock. This is great for roofing shingles. Slate is known for their durability and strength. And could be a great fit for the Texas area.
METAL:
Metal is a very common material used on Texas roofing systems. There are many types and colors available for metal roofing. Types of metal used for roofing are steel, copper, zinc and aluminum.
TILE:
Tile is known for its durability and strength. This material is very expensive. Tile is created from products like concrete, metal, slate and many synthetic compositions.
MEMBRANE ROOFING MATERIAL:
There are many types that are included in this category. These roofing materials are used on the flat roofing in Texas. Some of the most popular variations and brands are EPDM, TPO, cap, modified bitumen, thermoplastic membrane, and others.
There are many materials available, if you want to choose the best, contact a professional who will help you with any questions. They will provide you all the answers.
Hello world!
Welcome to WordPress. This is your first post. Edit or delete it, then start writing!