Welcome to Jesse Real Estate Photography
HOW I STARTED?
It was accidently. I came across a site about the real estate photography and started to think about that job. I always wanted to earn money as a photographer, but I didn't want to do portrait or wedding photography. I wanted something simple, but yet creative. And that is how I ended up like a real estate photographer. I have my photography practice for 8 years. There are many possibilities that real estate or architectural photographer have.
THE BEST OF PHOTOGRAPHY
I love my independence, and I can achieve it with photography. I could be a photographer who works for someone else, but instead I like being on my own. Being an independent artist is definitely harder, but I believe that this is the main reason why am I so successful.
---
Recent Projects
---
How To take a Photo
Recent News
Moving to Savannah
MY MOVING STORY- SAVANNAH HERE I AM
Living like a real estate photographer is nothing like people imagine it to be. When I tell someone what I do, the majority of them looks at me with a sad look on their face. They usually think it's either not a stable job or they believe that I get paid nothing. No matter how hard I tried to explain how incredible my job is, people back in my hometown still didn't get it. Thanks to real estate photography, I've been all across the United States. I visited many corners of our country and got to know the beauties many people can't. As work led me through the country, I started to realize how people in some cities appreciate my work area and my profession way more than they did back home. A little sparkle began to flare in me- a sparkle that told me to move away from my old city to one where my job and myself are appreciated.
It wasn't until I visited Savannah that I started to think about moving seriously. I wrote an article about my experience in Savannah and even today; it's one of my favorite cities in the US. I have plenty of beautiful memories in San Antonio, Atlanta, New York, San Francisco and other cities, but none of them amazed me like Savannah did. That's why I started to google more often "Living in Savannah," " Savannah apartments," " What's like living is Savannah."  The results I found were just as enthusiastic about the city of Savannah as I was.  I have a few friends living in Savannah, and they were the only one who knew about my idea. This thought of moving lived a bit more inside of me until I finally decided to turn my life around, pay a higher appreciation to my profession and do something for me and my career.
The only problem was: how to move my things? How to move my equipment safely? How to bring one's life to another city? I instantly knew that I paid too much money for my photography equipment to break it. So, I googled moving companies with which I had no experience whatsoever- and checked their ratings. There were many moving companies offering this and that and blah and blah, but one of them stood out. Liberty Moves a moving company offering their services in Statesboro, Savannah, Glenville, and Valdosta-  won me over with simplicity. I contacted them, they gave me an instant estimate, provided me with relevant information, we agreed- and that was it. I was moving!
As you, probably, noticed already- I am the most cautious person when it comes to my photography equipment. After all, it's how I survive. So, it was crucial that my job tools are properly boxed, sealed and marked with red FRAGILE.  Liberty Moves suffered through my constant monologs about my equipment, and no one was rude to me they did exactly as I wanted. My camera, lenses, bags, accessories and so on were safely moved, and none of it broke. Except for those, moving team of Liberty Moves moved my other things correctly as well. My furniture, kitchen gear, my memories and small things I wanted to carry- it was all moved safely, quickly and with no bumps on the road. I can honestly say that I've never met such a professional, hardworking and cautious team of workers. These young guys and girls- both on the field and in the office- try hard to satisfy each client and they deserve attention. The way they organize their meetings, the atmosphere they offer- it's amazing. They are approachable and polite|2
A want to give a big shout out to Liberty Moves, a top Savannah GA movers company, for helping me start a new chapter of my life.
Contact info
Liberty Moves
22 W. Bryan St.
Savannah
GA
,
31405
Phone: (912) 200-5075
Hours: Monday-Friday, 8AM-5PM
Payment Method: All Major Credit Cards and Checks
Service are: Savannah, Bloomingdale, Garden, Pooler, Port Wentworth, Thunderbolt, Montgomery, Georgetown, Richmond Hill, Wilmington Island and Skidaway Island.
Spending time in Texas
HOW I'VE SPENT MY TIME IN SAN ANTONIO, TEXAS
My career took me to places all over the United States by now. I have witnessed the beauty of our country so many times that by now I really do have high standards of what amazing is.  As a real estate photographer, you aren't bound to one area at all. After you achieve good reputation, there are big chances that real estate owners will call you everywhere. That's why I love my job so much, not only I make my own money but I also get so much from each experience.  I appreciate each trip, and I am always excited before I jump on the plane. It was no different when I got a call from the staff of the best San Antonio roofing contractor – Reilly Roofing and Gutters.
I have many memories from all over Texas, so I was pretty euphoric when I was called to the city of San Antonio to take some professional photos of the work Reilly Roofing and Gutters does. However, since I've never been to San Antonio, I felt a little unsafe all alone. I often travel with my freelance coworker or my friend if the company allows –plus one- policy. However, none of my friends and my family members could join the trip, and I had to intention of missing San Antonio. So, I packed my bags and took a little trip to the State of Texas. When I arrived in San Antonio, I was so overwhelmed with the beauty of the city. Just as I walked through the streets, I felt the incredible vibe the city has. When it comes to feeling unsafe, that was no longer a problem since Reilly Roofing and Gutters sent their kind staff to pick me up and drive me to a hotel. They were so nice and told me the stories about San Antonio which gave me an even deeper look into the lifestyle of residents. The hotel I came to was incredible, and I want to use this opportunity to thank Reilly Roofing and Gutters for booking me such an amazing stay. I've been to many cities and hotel, and not all of the employers do things like that.
The next day was work time. After having breakfast and a short walk through the town, I had to reach my destination where San Antonio roofing company was about to do its magic. I took some photos while the roofing team did a brand new slate roof.  My photos may look beautiful, but you should have seen that roof. It was magnificent- smooth, elegant and big. I wasn't just thrilled with the hospitality of this trustworthy roofing company but also with how they do the job. They came across a few problems that required special attention, and they brainstormed through those situations very quickly. Roofing team managed to tear off the old roof without damaging any part of the house, and the installation of the roof was extremely fast. I've never seen a slate roofing system being installed correctly in such a short amount of time.
I had the best experience in San Antonio, TX. The crew of Reilly Roofing and Gutters made it special for me, it wasn't just business but they also showed me around the city and we had a drink. Tomorrow morning I was leaving, and they walked me to the airport.
Reilly Roofing & Gutters
2626 Thousand Oaks #1004
San Antonio, TX78232
Phone: (210) 228-4000
Hours:
Payment Method: All Major Credit Cards and Checks
Visiting South Georgia
Paying a visit to Savannah, South Georgia
As a photographer, I gained independence and freedom to organize my time how I want to and to work for who I want to.  Being and independent artist made me a person I am today because of all the experience it has provided me with. Because of the flexibility of my job, it has taken me to places I thought I would never visit and I met people who I usually would never meet.  Among all the other trips, I keep one close to my heart.  A trip to, the oldest city in the U.S. state of Georgia,  Savannah made me remember why I started doing this job and what I love the most about it.  This town that radiates with positive energy is a home to many monumental buildings like the first American Baptist Church, Central of Georgia Railway roundhouse complex or the Telfair Academy of Arts and Sciences.  Savannah's  diverse districts that date back to history left me speechless.  Here you can find most historic districts like  Savannah Historic District, Victorian District, Mid-city District, Pin Point historic district and Cuyler- Brownsville historic district.
As a real estate photographer, I felt like a kid in amusement park. Everywhere around me were beautiful buildings of huge significance. I feel like there was not a moment on my trip to Savannah that I put down my camera. The city is full of monuments that I photographed from every single angle to make sure I did not miss a thing. How I got here you ask? Thanks to my job of course. My work somewhere in these eight years became recognizable, and I started to receive job offers on my email and phone, unlike in the beginning years of my career.
Since I am a huge travel addict and I use every opportunity to get going somewhere it was a logical thing that I will accept an offer made by South Shore roofing company in Savannah. I don't usually advertise my work allies, but this company made my trip so much better that I can not go by without mentioning them.  Their services include putting up residential and commercial roofs and repairing those if needed. South Shore Roofing company is different because of the way they work with their clients and coworkers. They took me step by step through a procedure and secured that I have everything needed to do a great job.
They also specialize in solar roofing which is another thing that I find very interesting.  Why did they even need me? Well, real estate photography may seem limited, but it is quite the opposite of that. Smart business owners know very well that visual marketing can do much.  When they saw how well I know real estate photography and my previous projects and results I have achieved for homeowners, they decided to contact me so I could take a series of photos of their roofing projects.  This is how I got to Savannah: to take a few pictures of different roofing styles and leave. How simple does that sound, right? It definitely was not the case. Savannah, Georgia and its architecture, real estates, people and my work ally made me prolong my stay for a whole week. During that time I visited every single historic building, took pictures of alluring real estates I came across and enjoyed Savannah's performing arts scene. When I think about it now, I was enthusiastic about my trip but I never thought that a city like Savannah-which isn't at all hyped up as on example New York, Chicago or San Francisco where I also went, would enchant me so much.
South Shore Roofing
105 Wheeler Court
Savannah,
,
Georgia
31405
Phone: 912-335-0400
Fax: 678-288-7831
Hours:
Payment Method: All Major Credit Cards and Checks
URL of Map To Our Home Office
Metal Roofing in Houston
Houston, we DON'T have a problem!
Being a real-estate photographer, my workplace isn't bound to a single area. On the contrary, my services are often required a few hundred miles away. This time, I was hired to do a photoshoot of a residence in Houston, Texas. Not only that, I got to have some real models for the shoot! To explain things a bit, since I am a real-estate photographer, my works of art usually include non-moving objects. Although I did a fabulous project in Oklahoma last year, I haven't had many opportunities to include people into my photos. Primarily because the nature of my job clearly states I only take pictures of houses and apartments. Nevertheless, opportunities like these always teach me I shouldn't make absolutes.
Even though I have worked with some amazing people while photographing that gorgeous house in Oklahoma, I was well-aware that such professionals are more of an exception than a rule. Luckily, I was met with the same casual, yet professional, individuals. This time, my models were the awesome crew of Anchor Roofing Inc who does roofing repair in Houston.
When I arrived at the scene of the project, I was met with the smile of Mr. Victor, the long-time owner of Anchor Roofing Inc., and the rest of his crew. He explained that the family living here wanted to upgrade their old roof by placing a metal roofing.
Houston itself isn't located in the Tornado Alley. However, spring supercell thunderstorms have a tendency to bring with them a tornado or two. Their old roof was deteriorating fast, so they wanted to prevent any more damage.
Since the guys and I started working on the same day, I managed to snap a few picture of the roof before the makeover started. On the outside, the roof itself seemed fine, but the real problem was unveiled after it was disassembled. The plywood base of the previous roof was in such a bad shape it had to be taken apart step by step. I was pretty taken aback, thinking the deadline would have to be extended, but for Mr. Victor and his crew, this was an expected situation. Switching to plan B, the entire plywood base was taken care of in a single day. In the next few days, with careful planning, the crew was divided into two sections. One units' task was to secure the roof with plywood boards, while the other had to install metal roofing. It was astonishing to observe such a task being performed. As the next few days passed on, the roof started to shine. And by that I mean literally, shine. Although metal roofing isn't the prettiest princess in the world of roofing materials, the sun proved me wrong, once again. The reflection of the sun on the finished roof made it look as if there was an entire sun hidden in the house's attic. The general idea of the house changed, it became a beacon of light somehow, without a border between the roof and the sky.
Advantages of metal roofing
In the end, for all of you amateurs, who like me, have no idea why metal roofing is such a good choice in Texas, Mr. Victor once again delivers. Being a roofing contractor here in Houston for almost 20 years, Victor was kind enough to explain the main advantages of installing metal roofing. First of all, metal roofing can last up to a century! Not only that, installers provide a 50-year warranty! Now how's that for longevity? Since it doesn't seem that eco-friendly, and since Houston is considered to be one of the most polluted cities in the US, I wasn't quite sure this roof is that good of a solution. I was wrong! It would appear metal roofing consists of a high percentage of recycled material. Not only that, Victor explained how this type of metal roofing reflects heat from the building underneath in the summertime, which is a big deal when you consider that the temperature here can rise to 43 °C. Translated into the modern-day language, you can save up to 40% in energy costs in the summer and up to 15% in the winter. This is common knowledge among experienced contractors, but Mr. Victor offers another piece of advice which comes from his 20-year experience. Apparently, re-sealing and insulating air ducts in the attic will save you even more money. When it comes to materials used, one can choose between metal tile sheets, stainless steel, lead, tin, aluminum and copper. On top of that, one can choose the type of coating that comes on top of the metal panels. They can be made of either epoxy or ceramic and can provide waterproofing, reflect heat and prevent rust. To us ladies, the upper side of coatings, besides the obvious one, is the way it makes metal roofing seem more homely.
In any case, this was another mind-blowing experience! I would hereby like to thank Mr Victor, all of you Texans and his crew for being so patient with me, and accepting me into their "territory."
My week in Oklahoma
My first roofing project
Last week I was cleaning up my work computer and while browsing through the files I stumbled upon an older folder of a project I was commissioned to do last year. So I wanted to share with you some pictures and give you some info about the whole project. Last year in May, my dad contacted me asking if I'm willing to do a photo shooting of a roofing crew in Oklahoma City while they are replacing a roof. Although, most of my projects include houses and roofs in some form, usually my photos don't include people. So, after I finished talking to him, I took a long walk. After I have returned home I called him back telling that I am up for the task, well although I was reluctant at first, my dad's persuasion and nagging "helped" to seal the deal. So a week later I packed and went to Oklahoma.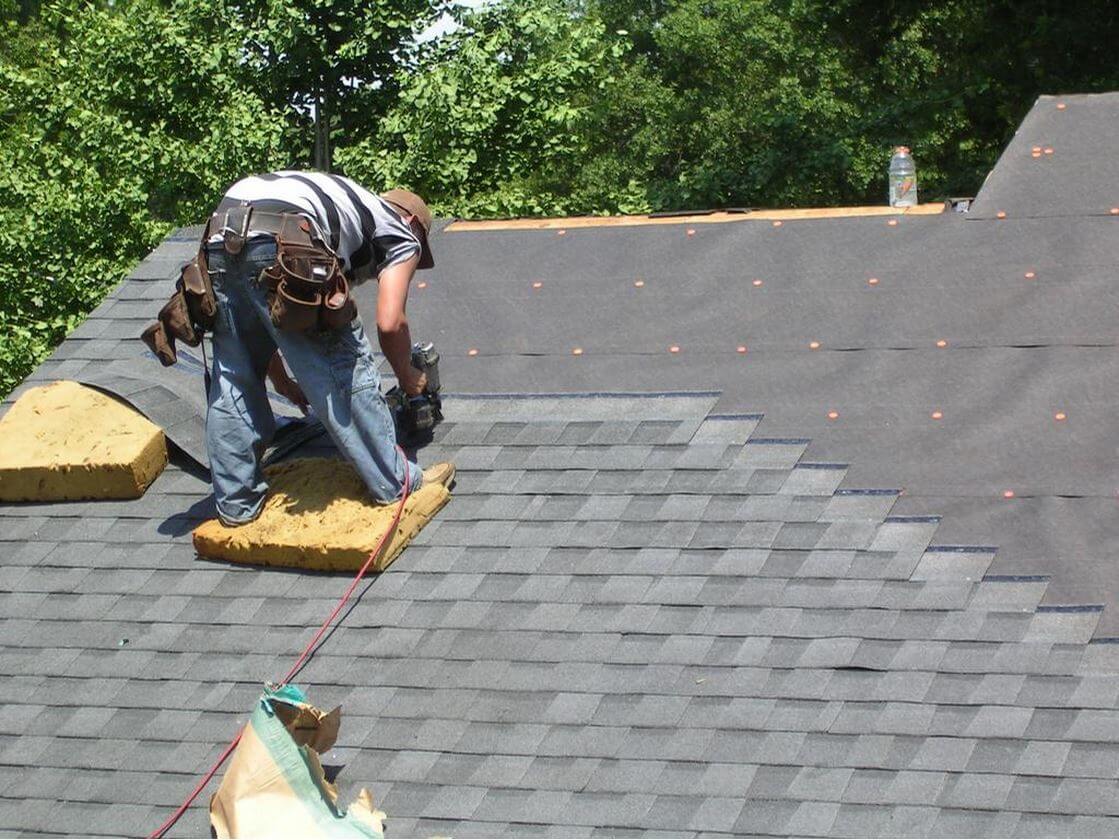 After I got there, I first met with my dad who then introduced me with Vince Lorenson an Oklahoma City roofing contractor, owner of Choice Solutions roofing & Exteriors, and rest of his crew. I have to say, these guys are a fun crew. I felt a bit nervous at first, since I wasn't sure how to start shooting, their house renovation project was due in a week so I had to plan my day carefully. Each day was about shooting a different phase of the roof replacement project. So I had to find a perfect angle for each of my shoots but also not get in the way of Vince and Choice Solution Roofing crew. At the beginning I was worried that I was an obstacle and a burden but I have to say they made things easier when they started making fun of the whole photo shooting, when they started posing like models.
On the first day I took a few pictures of stripped roof, only wooden beams were on the house, later Vince told me, the house was in really bad shape and they had to remove everything before replacing with a new roofing system. Family living there wanted an asphalt shingles. This was an extra challenge for me, since they aren't very visually appealing, they usually come in grey-ish colors and variations but who could blame them. Asphalt shingles are cheaper than most roofing materials but also preform equally well as other roofing materials out here.
Over the next few days Choice Solutions laid a new plywood base and ontop of it new asphalt shingles, one thing I liked about this project was the contrast of new and the old. One part of the crew was putting down new shingles while the other was still preparing and securing the roof with plywood boards.  After the transformation was done I took a few more pictures of the whole house from a few different angles, trying to use daylight to my advantage and pull out the best of those asphalt shingles.
At the end of the photo shooting I asked Vince if he could tell me more about roofing materials, just in case I find myself in a similar situation, so that I know how to act, and how to approach the project. There are many factors that need to be included in choosing the best roofing material for your property. Further, down you may find great info about different roofing materials available today.
ASPHALT COMPOSITION SHINGLES
This roofing material is one of the most popular ones and is comprising about 80% of the residential roofing market. This material is made or of organic paper of fiberglass impregnated with asphalt and is coated with the mineral protective granules. They are fire and high wind resistant.
METAL ROOFING
Metal is more expensive than asphalt, but can last longer and has better wind resistance. Metal roofing is composed of aluminum, steel or copper. It is available in shingles or in sheets and can resemble many other materials. Metal roofing is made of recycled materials and can be re-recycled. It absorbs less heat than the asphalt. Metal is known to be very durable and comes in many lightweight versions. It has a good resistance to both wind and fire.
CLAY TILE
It may be very expensive, but the materials are made from natural materials and are eco-friendly. It is very durable and that is why it is very popular among many homeowners.
CONCRETE TILE
This roofing material is less expensive than clay, but is heavier. Concrete can last for many years and is very fire resistant. Concrete is made from a mix of sand and cement and can resemble many traditional roofing materials like slate and wood shakes.
SLATE
Slate is one of the oldest roofing materials. Slates are a bit expensive, but are very durable and resists to fire and wind. They are made of natural rock and usually look a little darker. Since slate is made of natural materials, it also has an eco-friendly feature. This roofing material is very durable and long lasting. It may be a little too expensive but can offer you a roofing that can last as long as the house does.
WOOD SINGLES AND SHAKES
These materials are mostly made of cedar, and many other rot resistant kinds of wood. Wood gives your home a natural look. Wood shingles and shakes are made of natural elements and that is why they are eco-friendly.
All in all I hope you liked my little story. And if guys from Choice are reading this, I want to say thanks to them for being professional to me and to their job.
Choice Solutions – Roofing and Exteriors
2410 W. Memorial Road, Suite C #621
Oklahoma City, OK, 73134, USA
Phone: (405) 443-4747
Phone: (817) 231-0809
Phone: (405) 562-3575
Hours:
Roof Picture
ROOFING MATERIALS IN TEXAS
TYPES OF ROOFS IN TEXAS
There are many roofing materials and types available in Texas and further down you can find many pieces of information about the most popular ones. Roofing materials and systems are divided into generic classifications, steep slopes, and low slopes. Steep slope roofing includes water shedding types. Steep slope roofing is very popular and that is why they are great for your Texas home or business building.
LOW-SLOPE ROOFING
There are many genetic low-slope classifications of the roofing systems, metal panel roof systems, thermoset membranes, thermoplastic membranes, Spray polyurethane foam-based roofing systems, single ply membranes and built-up roofing systems. Most of the low-slope roofing membranes have 3 components, they offer a waterproofing layer. This is a very important element because it keeps water from penetrating into your Texas home. Surfacing is a component that protects your roofing system from water and sunlight. They have water resistance and hail resistance and have increased solar reflectivity.
STEEP-SLOPE ROOFING
There are a few generic classifications of steep slope roofing coverings. Steep slope roofing materials are the slate, clay and concrete tiles, asphalt shingles, metal roofing materials, slate, wood shakes and wood shingles and synthetic materials. These materials are composed of individual components or pieces installed in a shingle. Steep-slope consists of the roofing deck, the underlayment, and the roof covering. Roofing deck is the structural substrate and is made mostly of wood materials like OSB or plywood. Underlayment provides protection before the roofing covering isn't installed and provides you a waterproofing properties. Roofing covering is the external water shedding material that covers the roofing surface. In the text bellow, you can find many pieces of information about the most popular roofing materials and roofing in Texas.
ASPHALT SHINGLES:
They are the most commonly used residential roofs material in Texas. They come in a variety of colors and qualities.
WOOD SHAKE:
These shake shingles are also very popular roofing materials and are a modern version of the asphalt shingles. This roofing is great and weather proof. They have this rustic look that gives the values to your Texas home.
SLATE SHINGLES:
Slate shingles are made of sedimentary rock. This is great for roofing shingles. Slate is known for their durability and strength. And could be a great fit for the Texas area.
METAL:
Metal is a very common material used on Texas roofing systems. There are many types and colors available for metal roofing. Types of metal used for roofing are steel, copper, zinc and aluminum.
TILE:
Tile is known for its durability and strength. This material is very expensive. Tile is created from products like concrete, metal, slate and many synthetic compositions.
MEMBRANE ROOFING MATERIAL:
There are many types that are included in this category. These roofing materials are used on the flat roofing in Texas. Some of the most popular variations and brands are EPDM, TPO, cap, modified bitumen, thermoplastic membrane, and others.
There are many materials available, if you want to choose the best, contact a professional who will help you with any questions. They will provide you all the answers.
Hello world!
Welcome to WordPress. This is your first post. Edit or delete it, then start writing!